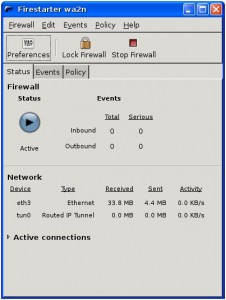 Demi untuk menjaga agar user client tidak membuka alamat-alamat tertentu yang mengandung virus atau yang lainnya, server ubuntu memberikan tool yang cukup sederhana dan mudah sebagai firewall. tool tersebut adalah firestartar, walaupun cukup sederhana tapi mempunyai fitur yang lengkap.
fitur firestarter
Open source, alias gratis
user friendly, mudah dalam pengoperasian
seting dengan kemudahan
bisa di gunakan di desktop, server dan gateway
real time firewall tentang apa yang terjadi di jaringan
support internet connection sharing dan optional DHCP
mematau koneksi jaringan yang aktif
support port forwarding
Instalasi firestarter
sudo apt-get install firestarter
Maka instalasi akan berjalan.
interface dan penggunaan dasar
The firewall wizard
The wizard akan membantu anda mengkonfigurasi aplikasi pada saat firestaff dijalankan pertama kali.
The status page
Halaman ini adalah inferface utaman yang memperlihatkan kondisi firewall apakan dalam kondisi start atau berhenti.
The events page
Merupakan halama kedia yang berisi history dari firewall
The policy page
Halaman terakhir yang berisi review dari access policy. alamat web mana yang boleh diakses dan bisa diakses.
The preferences
konfigurasi dari firestarter.
Penggunakan policy page
Misalkan kita akan memblog alamat web tertentu, masuk ke halmaan policy, kemudian pilih editing Outbond, klik kanan di kolom deny connection host, kemudian add rule, masukkan alamat web yang akan di blok.